Boosters and third doses will appear on the COVID Pass in England, making it easy for people to show their vaccine status when travelling abroad.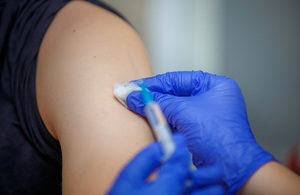 NHS COVID Pass can now be used to demonstrate proof of a booster or third dose for outbound international travel
Booster vaccination records to be visible through both NHS App and on NHS.UK
Over 13 million booster vaccines and third doses delivered across the UK so far
Travellers who have had a booster or a third dose will be able to demonstrate their vaccine status through the NHS COVID Pass from Friday 19 November.
The addition will enable those who have had their booster or third dose to travel to countries including Israel, Croatia and Austria who have already introduced a time limit for the COVID-19 vaccine to be valid for quarantine-free travel.
Booster and third doses will not be added to the domestic COVID Pass as it is not a current requirement for individuals to receive booster doses to qualify as fully vaccinated. It will also not be necessary to show evidence of a booster for travel into England at this time.